International courses
International courses
| Graduate training
Bachelor's in Jewellery Design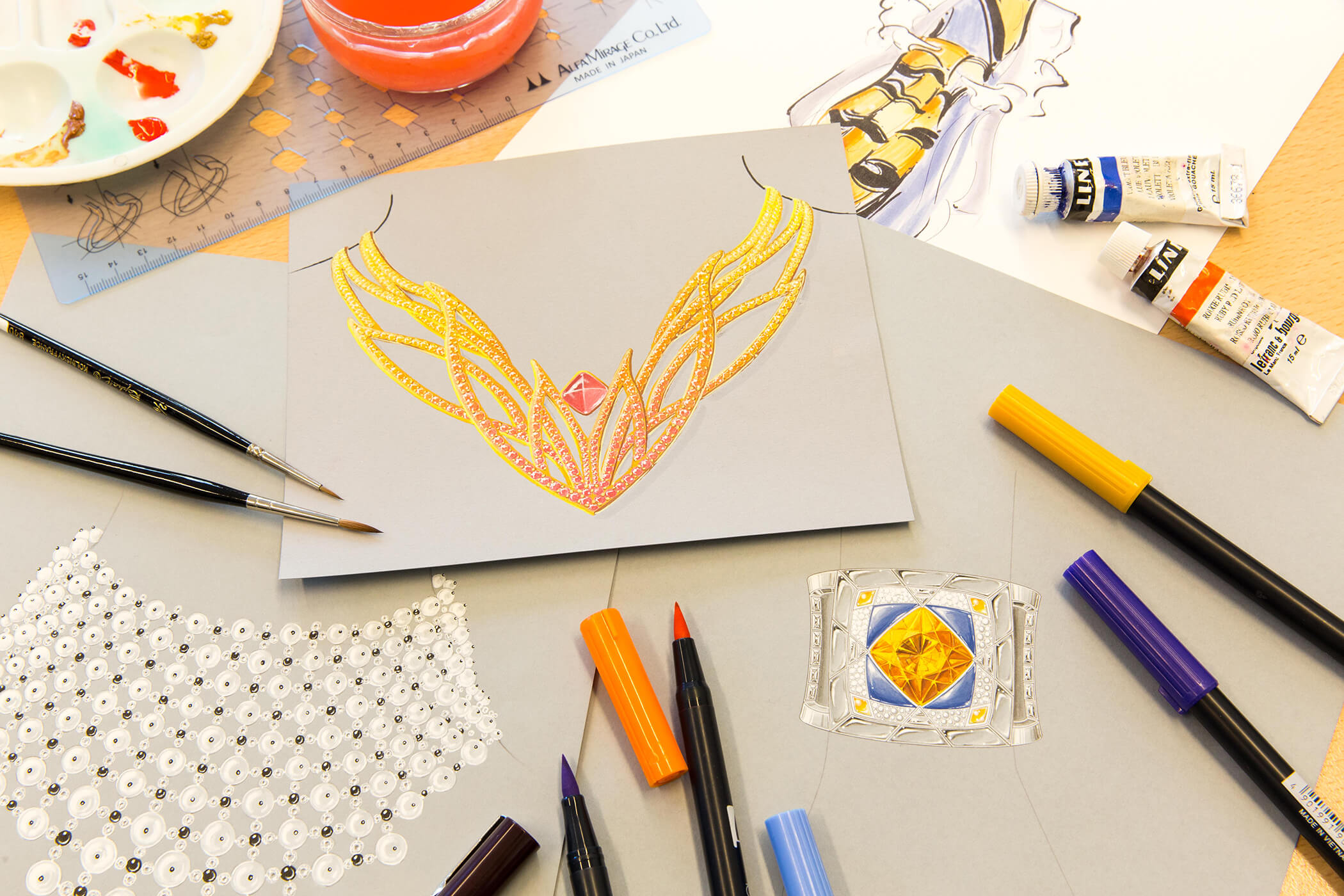 Objectives

Uniqueness of the Bachelor's in Jewellery Design

The Haute École de Joaillerie is the only institution in France offering a Bachelor's in Jewellery Design, a comprehensive and ambitious programme that combines a theoretical approach with an operational approach based on practical cases.

In the 1st year, students learn to select the right tools for conceptualising a problem and translating into a graphic creation.

Upon completing the 2nd year, students will know how to respond to a complete brief. The aim is to be able to conduct a creative research process and propose graphic solutions based on knowledge of technical manufacturing processes.

The last year offers an educational approach based on practical cases and on experimentation, with the involvement of renowned professionals, covering all fields in jewellery. A one-month exchange with the HEAD in Geneva, one of Europe's leading design schools, is planned as part of this degree programme.
Bachelor's in Jewellery Design target audience

Prerequisites/Target Audience

The Bachelor's Degree in Jewellery Design is open to holders of a BMA or BTS in Product Design (or equivalent) or the Baccalaureate.
Entry to the Bachelor's section is subject to submission of a personal artistic portfolio and motivation interview.
Curriculum
1st year

Conceptualise, formulate a problem and translate it graphically

Instruction plan

Artistic Culture
Graphic Expression and Applied Arts
Manufacturing Techniques
Communications
General Economics
Gems
In-Company Internship
2nd year

Respond to a creative brief and propose graphic solutions

Instruction plan

Creative History
Graphic Expression and Creative Approach
Production of Study Pieces
Principles in Accounting Management
Gem Science
Study Projects
3rd year

Mastering the creative language and representation techniques

Instruction plan

Individual Creation Project
Creative Workshops
History of Design
Digital Communication
Marketing and Merchandising
Entrepreneurial Plan
International Exchanges
Discover more

Professions / Opportunities

The Bachelor in Jewellery Design trains future designers in the jewellery sector, from costume jewellery to jewellery and fashion accessories.

At the end of the training session, the graduate will be able to develop a collection plan, and produce sketches and mock-ups up to the final rendering.

Duration

3 years, plus 8 weeks of internship:

4 weeks in year 1
4 weeks in year 3

Next session

Upon request: 01.40.26.98.00

Price

€9500 incl. tax