Professional courses
Professional courses
| Graduate training
Jewellery Arts and Techniques CAP
Stone setting Option
other availables options :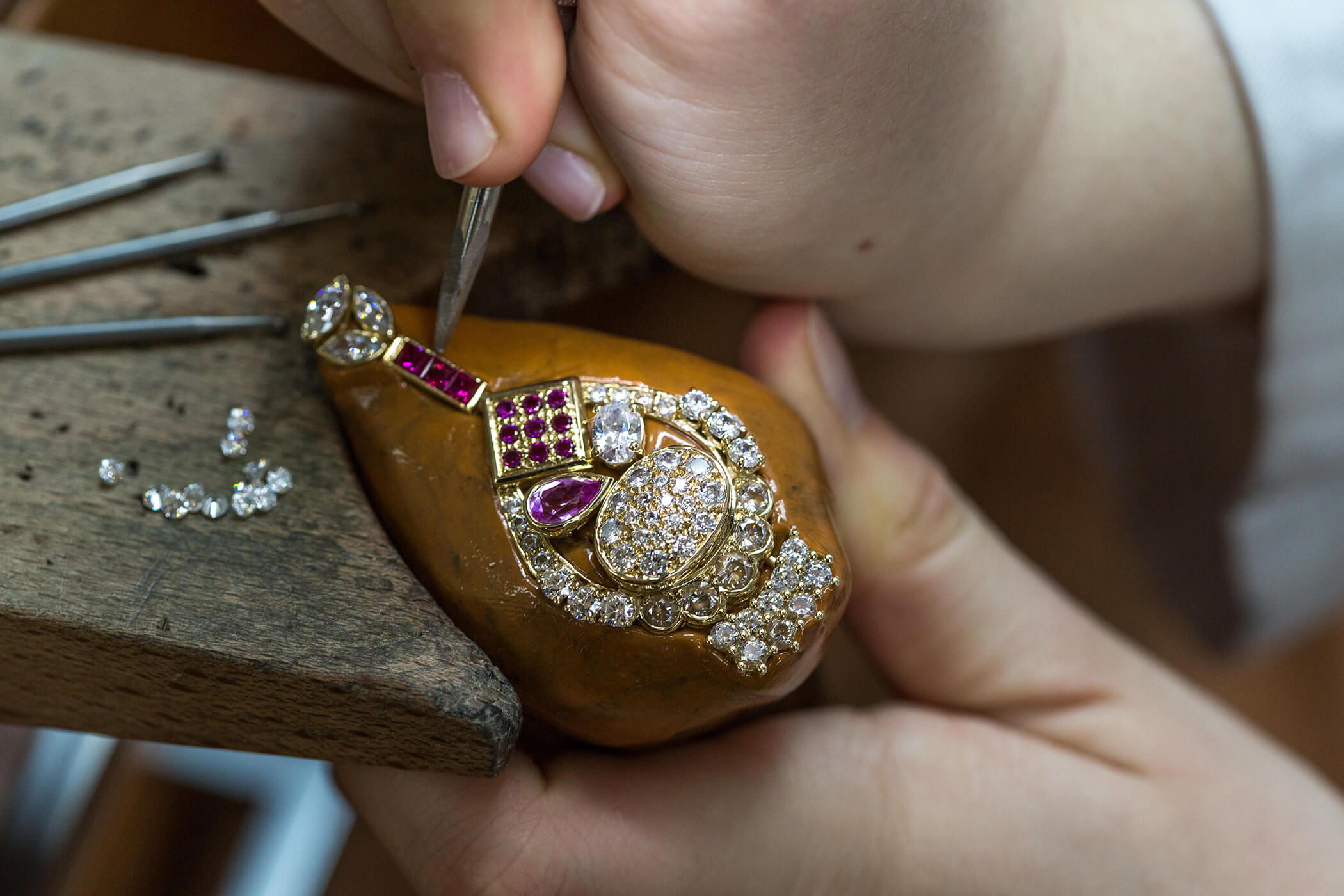 Objectives

The Certificate of Professional Aptitude (CAP) Art and Techniques of Jewellery is a national level V diploma.
It has 3 options: jewellery, setting and polishing. These diploma courses allow you to master the various techniques of manufacturing, setting or polishing a jewel.
Jewellery Arts and Techniques CAP – Stone setting Option target audience

Training is open to anyone with good manual dexterity and good perception of volumes.
Jewellery Arts and Techniques CAP – Stone setting Option why

The Jewellery Arts and Techniques CAP – Stone Setting Option opens the doors to the setter profession. The setter mounts the precious stones on the jewellery/pieces provided by the jeweller. This work requires a great deal of patience, concentration and dexterity.
PROGRAMME
Technical production

Professional setting technology
Use of the setting and welding tools
Gem fitting
Being familiar with and knowing how to perform the various setting techniques used in jewellery: grain setting, claw setting, closed setting, calibrated setting
Technical volume

Translating and interpreting volumes
Poducing jewellery volumes out of plasticine
Producing volumes and models out of was intended for melting
Art drawing

Gouache representation of materials used in jewellery
Rendering of volumes and stones
Technical drawing

Using instruments
Basic outlines and constructions
Perspective, enhancement, projection, elevation, cutting
Art History

The Great Civilizations from Antiquity to the Modern Day
Discover more

OPTIONAL SUBJECTS FOR NON- BACCALAUREATE HOLDERS

French, History and Geography Mathematics and Science

Living Foreign Language: English

contact@bjop.fr / 01 40 26 98 00

Location

58, rue du Louvre, 75002 Paris
Next sessions - Jewellery Arts and Techniques CAP - Setting Option
Paris
Du 06/09/2022 au 17/06/2022
Contact us for the price.
* Price of the trainings may vary according to the speakers.